JJ Bender Welcomes Aboard Megan and Sam!
jjbender
JJ Bender Welcomes Aboard Megan and Sam!
October 25, 2016
Fairfield, CT – Please join us in welcoming our two new Interns, Megan and Sam!
­­­Twenty years ago JJ Bender launched our Internship Program for current High School students to give them inside experience to the professional world. This program has proven to be a great success beyond their time with us. Our goal here at JJ Bender is not only to continue to build a successful company, but also to help build successful people.
Megan and Sam started working for JJ Bender in September 2016. While helping with simple tasks such as filing and packaging our "ATOMIC FIREBALLS", Megan and Sam also assist in managing our day to day business essentials, such as keeping our database with over fifty thousand contacts up to date, as well as assisting our sales team keep in touch with our customers. "For the last twenty years our intern program has been an integral part of our operation, it has helped develop more international contacts which has dramatically grown our export market," said Jeffrey Bender, owner of JJ Bender.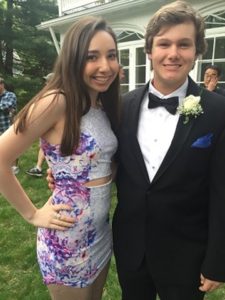 In addition to working at JJ Bender, Megan plans on majoring in psychology during college and pursue a career in social work. "Although this dream career is not directly related to my work here at JJ Bender, this job is a great way to begin to learn about the world of business and what it entails." Megan continued to explain, "I think that no matter what your choice of career may be, this internship is going to help out. The environment is very comfortable and friendly and the people are very hard working."
Sam is extremely dedicated to his academics and High School athletic program. "I love being a part of the Internship Program at JJ Bender, it has helped me to begin to pinpoint the career path I would like to study in college." Sam continued to explain, "It allows for flexibility in my schedule so that I can continue to participate in activates and clubs in school. They are very understanding that school is the most important aspect and playing a sport is my passion."
Hollis Bufferd, Chief of Staff, who oversees the Internship Program has seen a number of interns in our program. "It always amazes me the eagerness and professionalism they approach the job with. I know it is beneficial for the interns to get some experience before going off to college and even those that do not go on to pursue a career in business, our program gives them the foundation they need to explore any career opportunity." Hollis continued to explain, "For most of these students this is their first job and it fascinates me when you see students like Megan and Sam take a mature approach to the work they do.  I am honored when the interns reach out to me for a college recommendation. Most keep in touch and it's fascinating to see where they end up in life -accountants, nurse, marketing managers."
JJ Bender, LLC has over 36 years of experience as a market leader in the automated office equipment industry, specializing in high volume digital printing equipment. JJ Bender also offers services such as customized workflow solutions, independent leasing, and short-term and long-term rentals. Whether a Fortune 500 company, municipality, or a start-up venture, clients draw on JJ Bender's expertise in printing equipment to help them meet their individualized needs. For more information regarding "One Vendor. Multiple Solutions," visit JJ Bender online at www.jjbender.com or call 203-336-4034. For the most up-to-date news on JJ Bender's programs and services follow us on twitter www.twitter.com/JJBenderLLC.