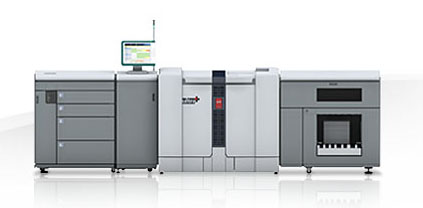 Canon VarioPrint 6160
Meet the Océ VarioPrint® 6000 Ultra Line, the world's fastest and most productive family of digital perfecting systems. Based on Océ Gemini Instant Duplex® technology, the ultra-fast duplex systems combine speed, power and scalability to take monochrome speed to new heights.
Description
Specifications
Description
Because of the Oce VP6160 Ultra's ability to print on both sides of a page in a single pass, this black and white printer uses less energy on average than traditional printers. The Oce VP6160 Ultra also beats the minimum EPA Energy Star requirements. Along with remaining environmentally conscious, the Oce VP6160 Ultra also helps you save a lot on energy costs. Since the Oce VP6160 Ultra does not use solvents in its toner, it does not need special air filters or sophisticated ventilated work areas that other printers do. And because the Oce VP6160 Ultra is so energy efficient, it emits less heat and has cooling and air conditioning requirements far, far below those of competitors.
the Oce VP6160 Ultra an extremely clean black and white printer, quiet, and healthy for your office environment. In fact, the Oce VP6160 Ultra's ozone emission levels are 90% lower than those of its competitors. An immediately noticeable characteristic of the Oce VP6160 Ultra is its quiet operation. Its noise level is rated to be 25 times lower than that of its competitors, which makes for a more comfortable work environment.
The Océ VarioPrint 6160 Ultra, Ultra TP and MICR printers are the most productive digital perfecting system in their class. Based on Océ Gemini Instant Duplex technology, this duplex printer series takes monochrome speed to new heights. With ultra-fast speed and benchmark reliability, print professionals can take on more jobs and turn them around faster, enter profitable new markets like digital book printing, expand services and do more with less. All while reducing costs and environmental impact. The result is a win-win proposition that delivers business stimulus benefits, expands opportunities, and optimizes resources and investment protection.
Print Resolution: 600 x 1200 dpi
Printing Speed: 166 letter duplex prints per minute 89 ledger duplex prints per minute
Max Page Size: 12.6" x 19.2"