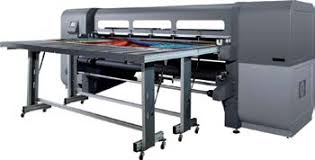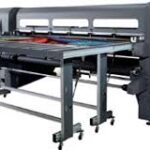 HP Scitex FB700
The HP Scitex FB700 Printer helps print service providers increase their capacity to fulfill customer requests and grow their businesses with high-quality prints on virtually any rigid or flexible media. The flatbed printer features efficient media loading and prints on materials up to 2.5 inches thick and up to 98.4 inches wide by 120 inches long for the production of durable outdoor and indoor applications, including point-of-purchase displays, tradeshow graphics, interior decorations, banners and furniture.
Description
Specifications
Description
Boost productivity and increase your capacity:
• Print fast, produce high-volumes, and increase your capacity—load, print, and collect media simultaneously.
• Load up to 6 sheets of media fast with the help of automated features. No masking is required.
• Reduce interruptions—no daily printhead maintenance; remote monitoring with the HP Embedded Web Server.
• Choose the right speed and quality to meet each customer requirement.
Offer new applications and grow your business:
• Wow your clients with incredible image quality—up to 1200 x 600 optimized dpi—and outdoor display permanence.
• Show clients what's possible. Do more with white ink, double-sided prints, matte/gloss, and full bleeds.
• Print directly on virtually any rigid or flexible material—even on corrugated plastic with good ink adhesion.
• Say yes to just about any request—even when asked to print on thick, heavy, and long materials.
Achieve true peace of mind with always-on printing:
• Work comfortably—HP UV-curable inks do not require specialventilation
• Rely on a robust, high-volume design—including a sturdy media advance system and heavy-duty tables.
• The HP Scitex FB700 Industrial Printer makes it easier than ever to use white ink
• Experience peace of mind with this reliable HP Scitex printer and HP Scitex Print Care maintenance assistance.
Print Resolution: Up to 1200 x 600 dpi
Technology: Piezoelectric inkjet, UV-curable inks
Dimensions (W x D x H): 411 x 142 x 152 cm (162 x 56 x 60 in)