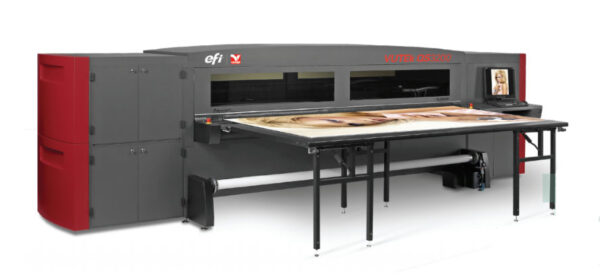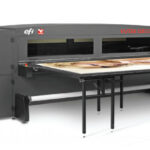 VUTEk QS3200
The VUTEk® QS3200 UV-curing printer from EFITM is a new breed of printer from the leader in superwide format printing. By combining High-Definition Print (HDP) capability with high production speeds, the VUTEk QS3200 is the superwide printer of choice for print shops with tight deadlines and customers who demand the highest image quality.
Description
Specifications
Description
• HDP at a true resolution of up to 1080 dpi, the VUTEk QS3200 delivers superior image quality.
• The VUTEk QS3200 produces brilliant four- or six-color imaging and features a special seventh channel for white ink.
• Delivers true in-line, three-layer white printing capability, which expands your ability to deliver a whole new range of applications and increase your profits.
• Delivers at speeds up to 900 square feet (84 square meters) or twenty-two 4'x 8' boards per hour.
• Capability to print on rigid and flexible substrates up to 2 inches (5.08 cm) thick and 126.5 inches (3.2 meters) wide.
• Enables more premium priced jobs because it produces higher quantities faster than ever.
VUTEk DNA – Making Your Business More Productive, Profitable and Successful for Generations to Come.
• Specialized digital inkjet printing solutions.
• High quality VUTEk inks.
• Unparalled training, service and support, including the Enhanced Service Program [ESP].
• EFI Fiery® XF production RIP.
Print Resolution: High Definition, 1080 dpi printing.
Technology: Piezo drop-on-demand inkjet technology.
Dimensions (W x D x H): 232" X 65" x 64.75"