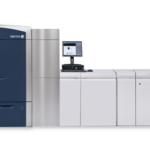 XEROX DocuColor 800
Xerox Color 800 press deliver sharp, rich, digitally mastered image quality. The clear dry ink station adds impact to documents – running at rated speed. The Automated Color Quality Suite of tools allows you to drive more high quality jobs through your shop and reduce costs.
Description
Specifications
Leasing
Description
The Xerox Docucolor 800 is made for "fine-tuned" image quality. With the ability to print 80 pages per minute, this machine offers a variety of color choices that create vibrant images that greatly catch the attention of the customers. The Docucolor 800 delivers one of the largest ranges of media handling, "from a lightweight 55 gsm to heft 350 gsm."
Resolution: 2400 x 2400 dpi
Printing Speed: 80 ppm
Max Page Size: 13" x 19.2"
Is it a Xerox DocuColor 800 lease that you are looking for? If you need a Xerox DocuColor 800 lease, then you've come to the right place. JJ Bender knows all there is to know about leasing a Xerox DocuColor 800. If a Xerox DocuColor 700 lease is on the cards for your business, it is important that you assess your alternatives, as leases of this sort require a commitment of resources to the machine. JJ Bender will inform you on what to expect with the first installation of the machine and also inform you on the essentials of your Xerox DocuColor 800 lease.